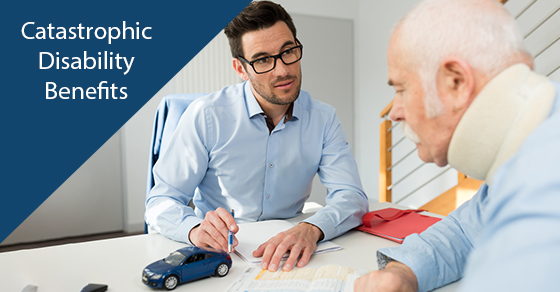 Catastrophic injuries are nothing short of devastating. They are injuries that can significantly alter the course of your life.
You may require rehabilitation, assistance, and care for the rest of your life; you could endure a substantial amount of pain and suffering.
You may be unable to return to work.
Catastrophic injuries leave physical, emotional, and financial burdens in their wake. If the injured person was also the sole caregiver of a household, the financial burden can be even more immense.
Catastrophic injuries include brain injuries, spinal cord injuries, quadriplegia and paraplegic injuries, and amputation, to name just a few. Car accidents, slips and falls, and swimming pool accidents are just a few potential causes of catastrophic injuries.
If you have been injured due to a catastrophic injury, it is important to know that there are benefits available.
What Is A Catastrophic Injury under the Automobile No-Fault Accident Benefits?
A catastrophic impairment designation under the Statutory Accident Benefits Schedule provides significantly more compensation compared to non-catastrophic injury benefits.
If you have been injured in an automobile accident and suffered a catastrophic injury as a result, according to the Statutory Accident Benefits Schedule (SABS), you may be entitled to the following Ontario accident benefits:
Medical and Rehabilitation Benefits – $1,000,000 maximum (available for life)
Attendant Care – $6,000 per month maximum (available for life)
Med/Rehab and Attendant Care Limit – $1,000,000 combined total limit of the medical and rehab and attendant care benefits (available for life)
In-home Assessments
Case Manager Assessments (paid out of med/rehab limits)
Transportation
Housekeeping and Home Maintenance – Maximum $100 per week (available for life)
Lost Educational Expenses – Up to $15,000
Visitor Expenses – Available to certain immediate family members (available for life)
Damage to Clothing – No limit
Caregiver Benefits – If unable to engage in caregiver activities, $250 per week (available only after two-year anniversary)
If you have suffered a catastrophic injury and are seeking compensation, please contact us here.