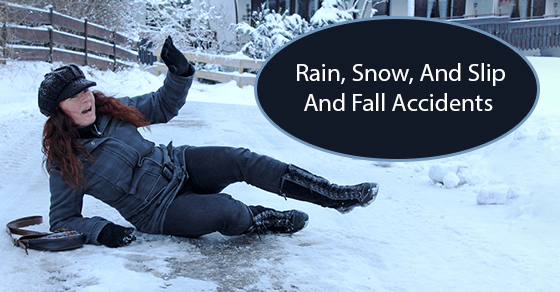 Slip and fall accidents are among the most typical injuries that personal injury lawyers go up against. Many people do not realize that slip and fall accidents can result in very serious injuries.
In fact, it is not uncommon for slip and fall injuries to require both long-term treatment and some form of rehab like physical therapy.
Given the severity of many slip and fall accidents, it is possible to seek compensation for general damages (i.e pain and suffering, loss of income, etc.) if you can prove that your injury was the result of negligence or the failure of a property owner or occupy to meet their obligations under the Ontario's Occupiers' Liability Act.
How Rain and Snow Can Cause Slip And Fall Accidents
There are many different causes of slip and fall accidents, but rain and snow are among the most common causes, even though these injuries are typically entirely preventable.
Under Ontario law, property owners or occupiers, whether public, commercial, or private owners, are required to keep visitors reasonably safe. If they are negligent and someone is injured, they may be met with a lawsuit.
In the case of rain or snow, a property owner may be negligent in keeping others safe if, for example, a person slips on their floor due to water that was tracked inside from rain or snow. This is particularly true if the floors inside are hardwood, laminate, or concrete. Even small amounts of water—even something as little as ¼ cup—can saturate a wide area of such floors.
Slip and fall accidents are also very common in the winter months, outdoors, and particularly in parking lots or frozen sidewalks (municipalities and cities can also be held responsible if action is taken quickly).
Similarly, if snow is not plowed and sidewalks are not shovelled, parties can be held responsible for falls.
If you have been injured in a slip and fall accident, it is important to know when to hire a personal injury lawyer.
Our personal injury lawyers have extensive experience, including over a decade of experience representing several of Canada's largest insurance companies. We will get you the compensation that belongs to you. To schedule a free consultation or for more information, please contact us here.