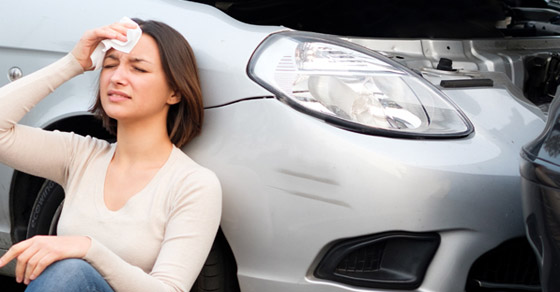 After a motor vehicle accident in Ottawa, or anywhere else across Ontario, injured parties are entitled to sue the at-fault driver and/or owner of the vehicle that caused the accident. If you were in an accident, you may be able to claim the following forms of compensation in a lawsuit:
a) General damages for pain and suffering and loss of enjoyment of life;
b) Loss of income;
c) Loss of household and handyman capacity;
d) Future costs of care;
e) Out-of-pocket expenses; and
f) Family Law Act damages.
General Damages
Unlike in most other lawsuits for personal injury, the mere fact that you were injured in a car accident does not entitle you to compensation for your pain and suffering. Rather, to get compensation for general damages, you must have sustained one of the following: (i) a permanent and serious impairment of an important physical, mental or psychological function; or (ii) a permanent and serious disfigurement (ie significant scarring). For example, if you are injured in a collision and make a full recovery prior to the conclusion of your lawsuit, you will not be entitled to any general damages for pain and suffering.
Loss of Income Claim
You are also entitled to claim your income loss as a result of the collision. There is a one week waiting period, for which you cannot claim any loss of income. Thereafter, you can receive 70% of your gross loss of income before trial, less any income you may receive from other sources (i.e. Accident Benefits, Short-Term Disability, Long-Term Disability, etc). You can also make a future loss of income claim for 100% of your gross income that you expect to lose after the trial.
Loss of Household and Handyman Capacity
You may be entitled to a claim for loss of household and handyman capacity if you are unable to do household chores due to your injuries, or you suffer an unreasonable degree of pain when attempting to perform such chores, due to your injuries.
Future Cost of Care
If you anticipate that you will incur medical or rehabilitation expenses due to your injuries (such as expenses for medication or treatment) after the trial or the date of the settlement (or if your no fault accident benefits coverage was exhausted before trial), then you can also claim these expenses. Similar to your claim for general damages, to make a claim for future cost of care, your injuries must be permanent and serious.
Out of Pocket Expenses
If you incurred any out-of-pocket expenses in relation to your injuries that were not covered by your own Accident Benefits insurance, these costs may also be compensable. These may include the costs of medication, treatment, parking at the hospital, etc. It is important that you keep your receipts for such expenses.
Damages for Family Members
Your immediate family members also have a right to advance "Family Law Act claims". The main categories of damages for family members are as follows:
Loss of guidance, care and companionship;
Value of nursing, housekeeping and other services the family member has performed or will perform for you or on your behalf;
Loss of income; and
Reasonable expenses incurred on your behalf.
Other: Accident Benefits
In addition to a lawsuit, compensation may also be available to you through your own automobile insurance. These are called No Fault Accident Benefits, and may include benefits for income replacement, medical expenses, rehabilitation expenses, etc.
If you have been in a car accident in Ottawa, Cornwall, Kingston or any other town across Eastern Ontario, and need assistance navigating the complex insurance and legal system, call SG Injury Law today:
By phone: 866-285-2681
Email: info@sginjurylaw.ca
Or fill out our Case Form