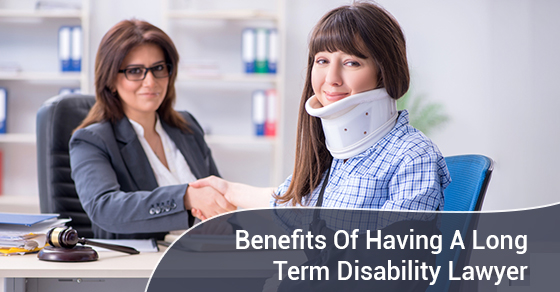 Filing for a disability claim can be a long, painstaking process. While some insurance companies have a streamlined process that gets your funds flowing to you in short order, others may take a great deal of time. Unfortunately, in many instances, valid claims for long term disability insurance are often denied by long term disability insurers.
The last thing you want or need when you suffer from a disabling impairment is to have to fight an insurance company. This is why hiring a long-term disability ("LTD") lawyer is often a good choice; as doing so can help ease the process and get your benefits approved, reinstated, or your claim settled.
What exactly can a long-term disability lawyer do for you?
How a disability lawyer can help:
Help in filling out insurance claim forms
Review medical records and request additional supporting medical opinions
Properly file and appeal applications before the deadline
Any other misc. assistance to help you avoid certain loopholes
Increase the likelihood of getting your claim approved
File a lawsuit and either settle your claim, force the insurance company to approve or reinstate your benefits, or take the case to trial for approval of your claim.
LTD insurance companies have a vested interest in denying your claims. You are dealing with corporations whose one primary goal is to produce profits. Despite the duty of good faith that is owed, insurance companies make most of their decision based solely on their bottom line.
If you have an impairment from working and believe you should qualify for LTD benefits, do not hesitate to pursue your rights if your claim is initially rejected. Never negotiate with the LTD insurer or allow your claim to linger. There are application and filing deadlines and an ultimate limitation period. If you commence your court action after the limitation period has expired, you will be out of luck.
Call 613-518-2416 or contact us here for a free consultation with our LTD Lawyers.