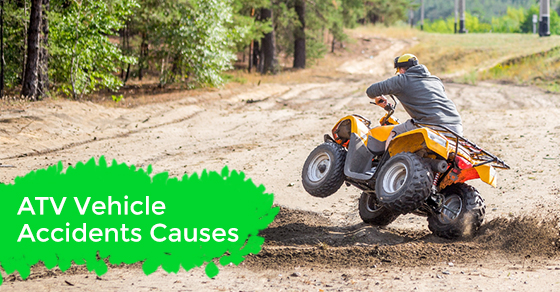 ATV motor vehicle accidents can lead to fatalities and devastating injuries that can affect your quality of life forever.
The problem with recreational vehicles, like ATVs, is that people are more likely to be less cautious than they otherwise would be if they were driving a vehicle on the road. This is because taking an ATV out for a spin tends to be recreational, some might drive while they are under the influence, or just drive recklessly.
With this in mind, here is a look into some of the leading causes of ATV accidents.
Leading Causes of ATV Motor Vehicle Accidents
Driving Under the Influence
Many people do not practice the same safe driving habits that they do when they are driving vehicles on the road.
Since ATVs tend to be driven off-road, many people are much more likely to drink under the influence due to the fact that they believe they can get away with it.
Unfortunately, alcohol is the leading cause of off-road ATV accidents. Take a look at the following study; the researchers found that a very high number of victims were found to be driving under the influence.
In fact, nearly 50% of those involved in ATV accidents had a significant blood alcohol concentration, leading the researchers to conclude that there was a strong link between ATV fatalities and drunk driving.
With this in mind, it's imperative to treat driving an ATV the same as you would any other vehicle – don't drink and drive. You might also want to consider using an alcolock.
Young Drivers Behind the Wheel
Sick Kids found that ¼ of all ATV fatalities occur in children who are under the age of 16.
Keep in mind that the number of children who are actually injured but don't succumb to their injuries is likely even higher, meaning that younger drivers are a serious risk.
While it is not illegal for children to drive ATVs on private property, the study above suggests that this law needs to change. That's why many major medical associations suggest that children advise against children driving such vehicles.
They should also not be passengers if the ATV is not equipped to handle one.
Call SG Injury Law at (613) 518-2416 for a free consultation.