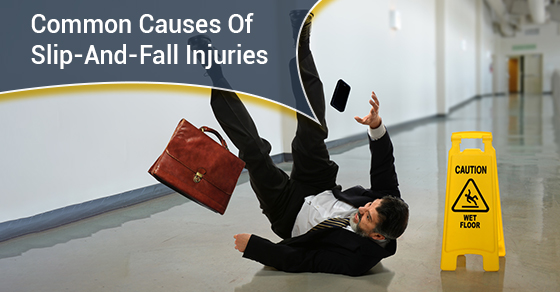 Every day, patients are taken to the hospital emergency room after being injured in a slip and fall. These falls can result in anything from minor bruises to broken bones or even life-threatening skull fractures.
To help you avoid serious accidents, be aware of these risk factors for a slip-and-fall injury:
Slippery or Uneven FloorsSlips and falls often happen on uneven surfaces or wet floors. Property owners should make sure driveways and paths are cleared and free of major cracks. To prevent injuries, regularly mop up wet surfaces in the home or workplace and ensure ice and snow are shoveled and salted in the winter.
Ineffective Initial Training Many slip-and-fall injuries occur in the workplace. Where a business has customers that attend at a premises (such as a store or restaurant), employers must provide proper training for all workers during training and orientation for the job. This can include instructions for keeping floors mopped and having a system in place to monitor for spills or other obstacles. If an employer does not provide adequate training and have a proper safety inspection symptoms in place which is explained to employees, that employer can be liable for damages that result from this failure.
Clear ClutterMake sure rooms and hallways are clear of any obstacles that may cause a fall.
Look AheadWe often walk with our heads down, looking at our smartphones and not watching for what's ahead. Always be aware of your surroundings and take note of things like wet or uneven surfaces, warning signs or obstacles in front of you. Failing to pay attention to where you are going can cause or contribute to a fall. In a court action, this can result in a reduction or refusal of your claim, if the court concludes you were partially (or fully) at fault for your own injury.
Have you or a loved one suffered a slip-and-fall accident and need representation for a claim you've been denied? Trust the professionals – call SG Injury's personal injury lawyers today at 613-518-2416 or contact us here.